Maggie Maleeva wins first title on grass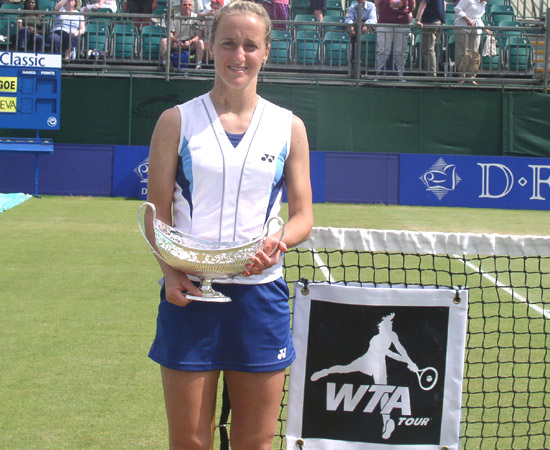 After equaling her best "Roland Garros" performance by reaching the round of the last 16, Maggie Maleeva won a tournament on grass, a surface, on which she has never passed the semifinals before.
Maggie Maleeva had a first round bye, because she was seeded third. However, he part of the draw didn't look very nice with Elena Lichovtseva (a player to whom Maggie had lost her last matches, including the last years Wimbledon's fourth round match) and Eleni Daniliidou, famous for her serves and love for grass courts.
Except for the second round and the final, all matches of Maggie were a three set story. In her third round match vs Cho, Maggie took the first set 6-1, but then lost the second 5-7 before winning the match with 6-1 in the deciding set. Then came her third round clash vs Fortez, Maggie lost the openning set 6-7 (5-7), but then she never gave the Frenchwoman a chance to win. Maleeva took the next two games 6-2 6-3.
Many people may say, that the match Daniliidou vs Maleeva was virtually the true final ot the tournament. Maggie won the opening set 6-3, but then allowed the Greekwoman to play her game (which she does very well on grass), so it was Daniliidou, who won the second set 7-5. Daniliidou continued playing well, she broke Maleeva to lead 4-2 in the deciding third set. However, "it is never ever over till it is over" (as Maggie said), Maggie fought back and won 4 games one after another to win the set 6-4 and thus the match.
Maggie was pretty confident in the final, she never gave Asagoe chance to threaten her first grass court title.
Later, Maleeva said:
``I came her with no expectations because I had just had a week off. But it is one of my most satisfying wins because I have now won title on all four surfaces,'' Maleeva said. ``If I get a good draw at Wimbledon I think I could maybe get pretty far.''
``I never thought I could come back to the top 20 after my shoulder surgery (five years ago) but now I have a chance of the top 10 ,'' Maleeva said. ``I think I am a better player now than before. I am very motivated and have a little bit more variety and I am very fit.''
Maggie is playing in this week's Eastbourne event, where she is seeded 8th. She plays also the doubles together with her partner Liezel Huber of South Africa.